Stephen Curry and wife Ayesha Curry welcomed their second baby girl on Friday evening.
Stephen Curry announced yesterday via his official Instagram account that him and his wife Ayesha Curry welcomed a baby girl.
The couple named their baby Ryan Carson Curry. Baby was born in Alta Bates Medical Center.
On Tuesday, Stephen Curry made a first public photo of baby Ryan via Instagram:
"I'm wayyyyy up I feel Blessed! God is Great. Thanks to the doctors and staff at Alta Bates for taking care of my girls, especially Dr. Poddatori. Healthy baby and @ayeshacurry is all I prayed for," Stephen Curry wrote.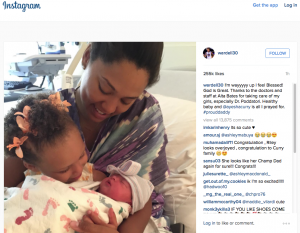 Ayesha Curry shared her happiness of being Mom for the second time on her blog "Little Lights of Mine" on Sunday:
"God is amazing. The gift of life is truly an indescribable thing. We were fortunate enough to experience it all over again friday night!" she wrote. "Our beautiful little Ryan Carson Curry arrived perfectly healthy and happy! She arrived a little early through a quick 3 hour labor and was a small 6lbs 1 oz. I was able to birth her naturally without an epidural. This is something I've always wanted to do and was so happy to get through it with the help of my darling husband and amazing doctor. This time around I felt more prepared and was able to take in the entire process. It was a miracle!"